Enjoy Stash Jar - The Jar with 4 compartments to keep everything separate!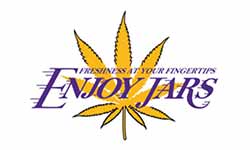 | | |
| --- | --- |
| Brand | Enjoy Stash Jars |
| Colour | Clear |
| Material | Plastic |
| Height | 8cm |
| Width | 20cm |
The Enjoy Stash Jars are designed to enable herbs or dried flowers to be kept separate within the same stash jar. The enjoy jars are smell proof and have a rounded base so you can completely empty your jar without having to tip it upside down! Each jar is approximately 8cm tall and 20cm diameter.

A High Times recommended product this jar is lightweight and unlike a glass stash jar is very strong and less likely to break as its made from polycarbonate.
Polycarbonate construction - very strong
Completely Smell Proof
Separates Herb into 4 compartments
Handy Size 8cm x 20cm dia
Details

| | |
| --- | --- |
| Brand | Enjoy Stash Jars |
| Colour | Clear |
| Material | Plastic |
| Height | 8cm |
| Width | 20cm |