Super Coil Spoon w/ Horns & Switchback by Amsterdam Glassworx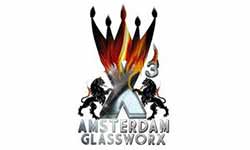 | | |
| --- | --- |
| Brand | Amsterdam Glassworx |
| Length | 12.5cm |
| Material | Glass |
| Bong Type | Hand Pipe |
| Opals | Yes |
Made from premium quality Schott-Duran borosilicate glass like all the Amsterdam Glassworx range, the Pipe goes through a 24hr annealing process to toughen the glass, followed by a series of quality checks, ensuring that the pipe that reaches you will provide a lifetime of smoking pleasure. This stunning little glass hand pipe that will constantly change colour with use. The pipe is fumed with a thick layer of pure gold and silver meaning that as the smoke reacts with the metallic elements, you will start to see all the colours of the rainbow emerge inside your pipe.
A superb quality spoon pipe that will be equally at home in everyday use, or as part of a connoisseur's glass display collection.
*Please note that as all Glassworx pieces are hand made, actual designs may vary slightly from those shown.
Brand: Amsterdam Glassworx
Glass: Premium quality Schott-Duran borosilicate glass
Features: Fumed with pure gold and silver
Size: Approx 12.5cm
Handmade
Details

| | |
| --- | --- |
| Brand | Amsterdam Glassworx |
| Length | 12.5cm |
| Material | Glass |
| Bong Type | Hand Pipe |
| Opals | Yes |